Rosy Starlings Bloom All Over the UK
Rosy starlings, a gorgeous and rare bird in the UK, have recently been spotted across all four countries with many more possibly to come.
Rosy starlings are very similar to starlings in their size and shape, and even gather in the same huge flocks. The crucial difference is, as their name would suggest, their gorgeous pink on their front and back. The males also have a shaggy crest on their head which is often at full alert during the breeding season from May to July.
They spend most of the year in Eastern Europe and Asia, only occasionally making a visit to Western Europe and the UK. Why, it's not known for certain, though a popular theory is that warmer springs allow their preferred food source, insects, to travel further west.
Emily Bignell, RSPB Wildlife Adviser, said: Always so wonderful to hear that rosy starlings are visiting the UK! We've had pictures and reports sent in from loads of our supporters and members already."
Charlotte Ambrose, RSPB Supporter Relations Experience Manager, added: "Rosy starlings often hang around with other starlings and turn up in gardens, so be sure to keep your feeders filled and your eyes peeled (they are special fans of fat balls). It's also a good idea to put out some fresh water, especially when it's particularly hot; they'll relish the chance to have a bath and a drink after the long flight!"

Scientists from the University of St Andrews undertake the first comprehensive study of the carbon stored in
Scotland's coastal wetlands and their vital role in the fight against climate change.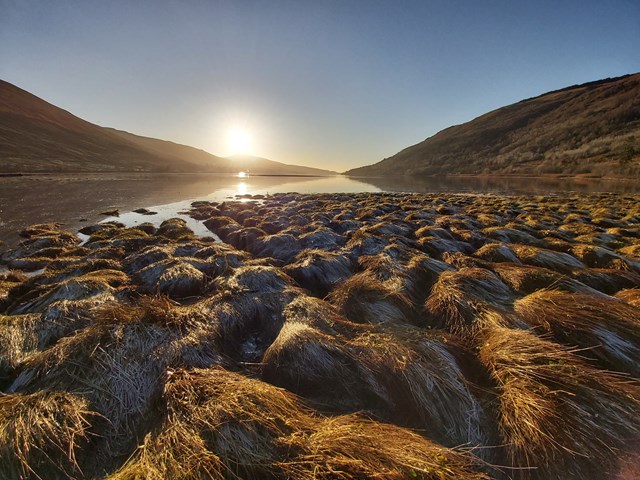 Click here: Scottish coastlines tackle climate change.html


Read the latest newsletter from the Seahorse Trust
Seahorse Trust Newsletter Summer 2020

Return of Kittiwakes to the River Tyne
The Black-legged Kittiwake has nested on buildings and structures along the River Tyne since the 1960s.
Watch them on the live webcam (click on the photo above)
It is the largest inland breeding colony in the world. Each year the birds return from spending autumn and winter out at sea and begin breeding on the ledges of the Tyne Bridge and buildings along the Quayside. In the 1990s the Baltic Wharf Flour Mill was redeveloped as a contemporary gallery and a viewing platform was installed to allow visitors to see these gulls up close.
The Quayside is home to about 700 pairs of birds with about 100 nests high on a ledge on the side of the Baltic Centre, they are a well-established part of local and natural heritage.
Read about the history of these nesting birds in this leaflet
Black-legged Kittiwakes on the River Tyne

UK Crane population reaches its highest level for over 400 years

Cranes on RSPB Lakenheath: Image RSPB
Latest common crane survey reveals a record-breaking 56 pairs of cranes in 2019, bringing the total population to an estimated 200 birds.
Cranes became extinct in the UK around four hundred years ago but following the natural re-colonisation of a few birds and extensive conservation work, including a reintroduction programme, these graceful birds are making a return.
Cranes are the tallest bird in the UK, standing at 4ft. They are fabled for their dances; complex displays with bows, pirouettes and bobs, which take place every year between the male and female.
The crane was lost from the UK for nearly 400 years, but thanks to conservation efforts their population numbers have once again hit record levels.
These birds, the tallest in the UK at 4ft, used to be quite common. They were even frequent fixtures at medieval feasts; Henry II chefs cooked up 115 of them at his Christmas feast in 1251, but a combination of hunting and wetland decline led to their extinction in the 1600s.
In 1979, a small number of wild cranes returned to Norfolk and conservation groups have been working together to encourage more and more of these birds. They have now spread to other areas of the UK, benefitting from improved habitat such as at the RSPB Lakenheath and Nene Washes reserves as well as Natural England & Humberhead Peatlands. Cranes recolonised Scotland in 2012 and Wales in 2016.
In 2010, the Great Crane Project; a partnership between the RSPB, WWT and the Pensthorpe Conservation Trust, and funded by Viridor Credits Environmental Company; joined the movement. The project creates and improves existing habitat, as well as hand-rearing young birds for release on the Somerset Levels and Moors.
All the conservation effort has yielded impressive results, with 56 pairs across the UK last year. Of these, up to 47 pairs attempted to breed and they raised 26 chicks. The total population is now believed to be over 200 birds – a new record.
Damon Bridge, Chair of the UK Crane Working Group said: "The increase of cranes over the last few years shows just how resilient nature can be when given the chance. With the support of our wonderful partners we've been able to recreate more and more of the cranes; natural habitat, giving them a place to recuperate after the winter and raise their chicks. They are not yet out of the woods, but their continued population climb year after year is a very positive sign."
Andrew Stanbury, RSPB Conservation Scientist said; "Thanks to the dedication of individuals, the UK Crane Working Group and conservation organisations, we are delighted to see crane numbers continuing to recover. Nature reserves have played a vital role. At least 85% of the breeding population are found on protected sites, with a third on RSPB reserves."
Dr Geoff Hilton, WWT Head of Conservation Evidence said:
"The reintroduction of lost species must be supported with good habitat management and protection for the recovery to work. The success of the crane project to date demonstrates what can be achieved in a short space of time by giving nature a helping hand. We also must thank dedicated land managers and farmers in the area for supporting crane conservation."
Chrissie Kelley, Pensthorpe Conservation Trust & Head of Species Management said: 'As partners in the GCP, and with a long association working with Eurasian Cranes, we are thrilled to see wild cranes doing so well. Seeing these birds in flight is breath-taking and we have regular sightings of them over our reserve in Norfolk.

Farmland Birds
If we want to bring back farmland birds, restore a farmland pond, new research shows Less than 70 years ago, ponds were a common feature of the farmland landscape, and were routinely managed just like hedgerows. Since the 1950s, many ponds have been filled in to reclaim more land for farming, however, the large number have been left unmanaged, meaning they have become overgrown with trees and bushes, making them dark and inhabitable to many species.
WWT has been working with the Natural History Museum and University College London on research that shows reinstating traditional pond management methods, of tree and mud removal, can benefit not only pond species, but also farmland birds.
Ponds restored by the Norfolk Ponds Project Post EU exit Regulatory Framework – Final – Jan 2020 were compared to neighbouring unmanaged and overgrown ponds; restored ponds contained twice1 as many bird species and almost three2 times as many birds, as the overgrown ponds.
Bird species at the restored ponds included skylark, linnet, yellowhammer and starling, all species that are Red Listed in the UK because they have declined drastically in recent years. There were 95 sightings of these four species in and around the restored ponds, which compared to just two sightings of yellowhammer and none of skylark, starling or linnet at the unrestored ponds.
As well as attracting threatened species, researchers found that the restored ponds attracted twice as many bird species – 36 compared to 18 at the unrestored ponds. The total number of birds visiting was also greater at restored ponds with almost three times as many birds attracted to the restored ponds. This was shown to be linked to the abundant insect food resources emerging from restored ponds.
According to lead researcher, Jonathan Lewis-Phillips of UCL's Pond Restoration Research Group:"Restored ponds are teeming with insects, and because different ponds have insect peaks on different days, birds can move from pond to pond, and get the food that they need. A network of high-quality ponds is therefore brilliant for birds in the breeding season".
With a network of restored ponds across the landscape, birds were able to move between insect emergence events, providing an ongoing insect food resource during the breeding season.
The research comes at a time when farmland birds are under huge threat, having declined by 55 per cent in the last 50 years, largely due to changes in agricultural management to increase food production, according to the recent State of Nature 2019 report. State-of-Nature-2019-UK-full-report
As well as providing a beneficial habitat for woodland birds, farmland ponds also provide important landscape feature, and act as stepping-stones for other wildlife including frogs and dragonflies. Despite this, a separate report published earlier this month by the RSPB, WWF and the Wildlife Trusts highlighted that there is a no meaningful protection for farmland ponds in the new Agriculture Bill.
Hannah Robson, Wetland Science Manager at WWT said: "Our research shows how important it is to restore and manage ponds in farmland. Here in Gloucestershire, preliminary evidence suggests we have lost around two-thirds of our farmland ponds since 1900. That's why we have been working with Farming & Wildlife Advisory group (FWAG South-West) and local farmers to restore a number of ponds across different farms on the Severn Vale this winter.
"Even following long periods of dormancy, overgrown farmland ponds can quickly come back to life, with plants, amphibians and insects starting to colonise them in a matter of months. That is why this research could be an important pointer of where the UK's environmental and agricultural policy should focus post Brexit."
Carl Sayer of University College London Pond Restoration Group said: "The research on birds was inspired by Norfolk farmer Richard Waddingham. His constant belief has always been that farming and wildlife can co-exist and with wildlife declining at an alarming rate, at no time in history do we need to make this work more than now. Restoring farmland ponds is clearly part of a positive way forward".

Bumblebees are going extinct
due to 'climate chaos', scientists warn
The much-loved bumblebee is going extinct in Britain, Europe and North America, scientists have warned.
A new study from the University of Ottawa found 'the likelihood of a bumblebee population surviving in a given place' has declined by an average of over 30% over the course of one human generation. This means the bees are finding it difficult to establish new communities and survive to create a new generation of insects. 'We've known for a while that climate change is related to the growing extinction risk that animals are facing around the world,' said Peter Soroye of UCL, who has just published a paper on the plight of the bumblebee.'In this paper, we offer an answer to the critical questions of how and why that is. We find that species extinctions across two continents are caused by hotter and more frequent extremes in temperatures.'
We have now entered the world's sixth mass extinction event, the biggest and most rapid global biodiversity crisis since a meteor ended the age of the dinosaurs.
Bumblebees are important because they pollinate plants and therefore help to feed the other species which live here on Planet Earth.
'Bumblebees are the best pollinators we have in wild landscapes and the most effective pollinators for crops like tomato, squash, and berries,' Soroye added.'Our results show that we face a future with many less bumblebees and much less diversity, both in the outdoors and on our plates.' The researchers discovered that bumblebees are disappearing at rates 'consistent with a mass extinction'. 'If declines continue at this pace, many of these species could vanish forever within a few decades,' Soroye continued.
The technique
'We know that this crisis is entirely driven by human activities,' Soroye said.
To assess the bee situation, researchers developed a way of predicting extinctions of animals based on local increases in temperature. The team applied their model 66 species of bumblebee in Europe and North America to find that 'populations were disappearing in areas where the temperatures had gotten hotter'.
It's hoped the system could now be used to identify other species at risk of extinction.

Sir David Attenborough




warns of climate 'crisis moment'
"The moment of crisis has come" in efforts to tackle climate change, Sir David Attenborough has warned.
What does Sir David mean by 'the moment of crisis'?
He's highlighting the fact that while climate scientists are becoming clearer about the need for a rapid response, the pace of international negotiations is grindingly slow.The most recent talks – in Madrid last month – were branded a disappointment by the UN Secretary-General, the British government and others.
Decisions on key issues were put off and several countries including Australia and Brazil were accused of trying to dodge their commitments.
The UK is hosting what's billed as a crucial UN summit, known as COP26, in Glasgow in November. Ahead of that gathering, governments worldwide are coming under pressure to toughen their targets for cutting emissions.
Assuming promised changes are delivered as promised (and there's no guarantee of that), there could still be a rise in the global average temperature of more than 3C by the end of the century, compared to pre-industrial levels.
The latest assessment by the UN's Intergovernmental Panel on Climate Change (IPCC) lays bare the dangers of that. It suggests that a rise of anything above 1.5C would mean that coastal flooding, heatwaves and damage to coral reefs would become more severe. The latest figures show that the world has already warmed by just over 1C.
Sir David has a blunt explanation for why this matters: "We actually depend upon the natural world for every breath of air we take and every mouthful of food that we eat."
"We're already living in a changed world," according to Professor Ed Hawkins of the University of Reading, a scientist whose depictions of global warming have often gone viral on social media. A landmark report last year warned that as many as one million species of animals, insects and plants are threatened with extinction in the coming decades.