GOVERNMENT U-TURN ON PROMISES TO END BADGER CULLING
Photo copyright Andrew Parkinson 2020 Vision
Largest ever cull authorised this autumn – bringing the total shot to 35% of UK's badger population .
The Wildlife Trusts are aghast that more than 70,000 healthy badgers will be shot this autumn in the government's largest ever seasonal cull.
The move comes despite the government's promise just six months ago to support badger vaccination and move away from shooting this protected species.
The cull will result in the deaths of badgers which have been vaccinated by volunteers in government-funded programmes.
Derbyshire Wildlife Trust leads the country's most extensive vaccination programme —Derbyshire is one of 6 new areas where culling has never previously taken place under government licences. 
Derbyshire Wildlife Trust's CEO, Dr Jo Smith, says: 
"This is a staggering government U-turn and one which will result in thousands of healthy badgers being shot across England this autumn.
"In March — following a review by Professor Godfray — the government promised to move away from lethal control. However, after seven years of badger culling, the government has failed to act on its own advice and is expanding its culling programme into new regions including Derbyshire, Oxfordshire, Leicestershire and Lincolnshire into what will be the biggest cull yet.
"We are at a critical turning point for our natural world and this latest U-turn should set alarm bells ringing — culling is an outdated policy that seeks to eradicate protected wildlife rather than addressing the real problem which is the main cause of bovine tuberculosis (bTB): cattle-to-cattle infection.
"Recent news that investment in a cattle vaccine is underway is welcome — but it is not enough. Moving the culling into areas where badger vaccinations have been taking place will also undermine this vital and under-funded work."
Berkshire, Buckinghamshire and Oxfordshire Wildlife Trust CEO Estelle Bailey says:
"BBOWT remains adamant that a cull is not necessary for the control of bTB, if alternative approaches including vaccination are fully implemented.
"Culling does not address the primary cause of outbreaks of bTB which is cattle-to-cattle transmission, and it undermines our vaccination programmes. Culling is outdated, ineffective and immoral. This government has repeatedly said it will be guided by the science, yet it seems to be ignoring its own advice."
The Wildlife Trusts' latest campaign has resulted in over 14,000 people so far writing to their MPs raising concerns about the badger cull and plans to expand it into new areas.
The Wildlife Trusts oppose culling and believe the science used to justify the killing of thousands of badgers every year in the UK is flawed. Evidence shows that bTB is primarily a cattle problem, not a wildlife one. The main route of bTB transmission in cattle is between cattle.
This autumn's cull brings the overall total of badgers shot since culling began in 2013 to over 170,000 badger deaths. This is approximately 35% of the UK badger population. The cull began in 2013 and is expected to continue for a further four years.

British hedgehog now officially classified as vulnerable to extinction
The hedgehog is now included by the Conservation of Nature's (IUCN) Red List for British Mammals.
"What people do on behalf of the hedgehog is amazing," said Fay Vass, CEO of the British Hedgehog Preservation Society (BHPS). "The holes made in fences, the feeding, the hedgehog houses, the wildlife friendly planting, the removal of hazards – all makes such a difference locally."
"But it is not enough to rely on the good will of individuals to protect this important creature," Fay continues. "We need Government to enforce wildlife friendly practices. From farming to development to transport – wildlife needs to be taken seriously."

New Bee Discovered in Wales
Andrena nitidiuscula – Carrot Mining Bee (Photo: R. Williams BWARS)
Buglife are pleased to report the discovery of the Carrot Mining Bee (Andrena nitidiuscula) in Wales for the very first time! Buglife Cymru staff undertaking bee surveys as part of the 'Searching for Scabious' project made the discovery during a recent visit to Lavernock Point Nature Reserve – a Wildlife Trust of South and West Wales (WTSWW) reserve in the Vale of Glamorgan, south Wales.
The Carrot Mining Bee is just one of around 180 bee species known from Wales and is so-called because of its strong association with the flowers of Wild Carrot (Daucus carota), from which it collects pollen.  Formerly restricted to the southern counties of England, this scarce bee has never before been seen in Wales – until now.
Liam Olds, Conservation Officer for Buglife Cymru, and who made the discovery said "Though unexpected, finding this scarce bee in Wales is very exciting and a fantastic output for our 'Searching for Scabious' project. This discovery highlights how little is still known about the bee fauna of Wales and how valuable funded projects such as our 'Searching for Scabious' project can be. Not only is this project improving our understanding of the distribution and conservation status of some of Wales' most threatened bees associated with scabious-rich habitats, it is also discovering species never before seen in Wales. Now that the Carrot Mining Bee has been discovered at Lavernock Point, we hope to work with the Wildlife Trust of South and West Wales to ensure this bee continues to flourish at this beautiful nature reserve."
The 'Searching for Scabious' project, funded by the People's Postcode Lottery, aims to raise awareness of some of Wales' most threatened bee species associated with scabious plants. Through the project, sites across south Wales supporting scabious-rich habitat are being searched in the hope of discovering these bees.
These surveys will provide us with up-to-date species records and distribution data to inform management on the ground and improve the prospects for these threatened wild bees.
For further information on the project, visit the project webpage https://www.buglife.org.uk/projects/searching-for-scabious/.

Helping Bees thrive on the South Circular
A new garden display at the Horniman Museum and Gardens features a sculpture that clears air pollution, alongside bee hotels and specially-selected plants – all aiming to help bees thrive by the side of one of London's busiest roads, the South Circular.
The Bee Garden is designed around a central group of six hexagonal raised beds planted with species that attract and provide food for bees – including annuals such as Sunflowers Helianthus annuus, perennials including Vipers Bugloss Echium vulgare and shrubs like Mahonia × media 'Winter Sun'. To either side is an area of wildflower turf for maximum plant diversity, with a bee hotel in each – made from reclaimed pallets – to provide shelter and nesting sites for solitary bees.
And seeming to rise out of the foliage is 'Flower Girl', a new sculpture by Jasmine Pradissitto, which is made from a material that absorbs NO2 or nitrogen dioxide pollution from the air. NO2 has been found to mask the smell of flowers and prevent bees from finding food.
The new work – with the full title 'Flower Girl – For it was only upon the gentle buzzing of bees that she could awaken' – takes the form of a sleeping female face, surrounded by giant swirling leaves as she waits to be woken by returning bees. The sculpture is formed from NoxTek™, a geopolymer which, over time, can absorb up to 15% of its own weight in nitrogen dioxide molecules. Rain falling onto the sculpture will wash away the absorbed gas as a harmless liquid, allowing more pollution to be absorbed from the surrounding air.
The hope is that 'Flower Girl' will clear a 'scent path' for bees living in the bee hotels and in the surrounding area, making it easier for them to find the food sources provided in the Bee Garden.
Wes Shaw, Head of Horticulture at the Horniman Museum and Gardens, says: "This area has been given over to wildflowers in recent years but we've decided to step it up and create a garden dedicated to supporting bees. They're our most important pollinators, vital to gardeners and to the environment as whole, so it makes sense to design with them in mind. And we're thrilled to have Jasmine's sculpture adding both beauty and environmental benefit to the Bee Garden."
Work to create the Bee Garden and install 'Flower Girl' has been carried out during lockdown. Although the Museum has been closed to the public, the Gardens have remained open with social distancing measures in place to allow local people to visit. The Bee Garden is in full bloom this month, ready to welcome visitors back to the Museum when it reopens to the public on Thursday 30 July. And you can catch up with how the Bee Garden has grown over the past few months by watching the Horniman's time-lapse film.


2020 is the Tercentenary of Gilbert White's birthday
Since its publication over 200 years ago Gilbert White's The Natural History and Antiquities of Selborne has inspired generations of naturalists, writers and artists, this book is still in print today.
Gilbert White (1720 – 1793) was one of the first naturalists, influencing both Charles Darwin and David Attenborough. His seminal work The Natural History and Antiquities of Selborne also inspired generations of writers and artists, including Samuel Taylor Coleridge, Virginia Woolf, Eric Ravilious and John Nash.
White's Natural History recounts his daily observations of the animals, birds and plant life found on his doorstep in Hampshire and nearby in the South Downs in Sussex. It was an immediate success upon its publication in 1789 and has never been out of print. It has over 300 editions, many of which were illustrated by an array of exceptional artists.
This free exhibition reveals the many different visions of Selborne and its wildlife inspired by White's writings, created by artists such as Thomas Bewick, Eric Ravilious, John Nash and Gertrude Hermes. It includes original prints, blocks and the First Edition illustrated by Samuel Hieronymous Grimm.
Thomas Bewick, the founding father of British wood-engraving, was influenced by White's observations on birds, and his images in later inspired 20th century wood-engravers such as Eric Fitch-Daglish, John Nash and Gertrude Hermes. While these artists beautifully rendered the flora and fauna of Selborne, artists such as Ravilious and John Nash focused on man's interactions with nature, creating timeless scenes of country life. These include amusing incidents such as John Nash's illustrations of curious women taking a liking to a toad at a dinner party. Other artists chose to illustrate the surrounding landscapes, including John Piper's atmospheric watercolours of Selborne Church.
Eleven contemporary printmakers and illustrators have produced new images inspired by White's Natural History for this exhibition, which demonstrate the enduring appeal of his writings for artists. Together these images encourage us to look to the nature on our doorstep that is under threat from climate change and the impact of human activity.
'Drawn to Nature: Gilbert White and the Artists' is part of a series of events across the UK, marking the tercentenary of Gilbert White's birth. For more information, visit Gilbert White's House in Selborne.
Visit Pallant House Gallery in Chichester to see "Drawn to Nature" Exhibition open 5th August to 15th November
Pallant House Gallery, 8-9 North Pallant, Chichester PO19 1TJ

Scientists from the University of St Andrews undertake the first comprehensive study of the carbon stored in
Scotland's coastal wetlands and their vital role in the fight against climate change.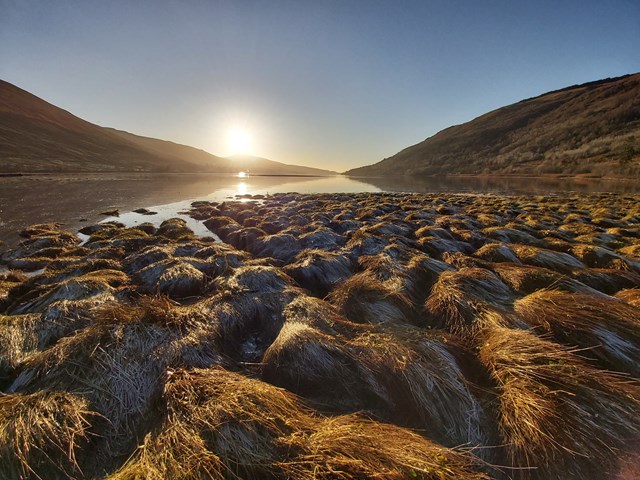 Click here: Scottish coastlines tackle climate change.html


Read the latest newsletter from the Seahorse Trust
Seahorse Trust Newsletter Summer 2020